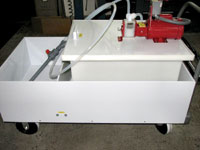 All product contact components of
vanton's mobile pump/tank cart are of
solid, homogeneous thermoplastics and
elastomers that are 100% inert, eliminating
corrosion and ionization associated
with metal pumps.
NEWS
Non-Metallic Pump/Tank Cart Handles Caustics, Acids, Ultrapure Fluids
HILLSIDE, NJ, USA — A new non-metallic, Mobile Pump/Tank Cart from Vanton Pump and Equipment Corp. transfers wastewater and caustic/acidic chemicals with no corrosion, and ultrapure fluids with no contamination.

All fluid contact surfaces of the tank, base plate, and secondary containment chamber are of solid polypropylene, polyethylene, PVC or other inert thermoplastic, precluding chemical attack across the entire pH range.

The pump, a Flex-I-Liner® model CC-PY12B, utilizes a rotor mounted on an eccentric shaft to push fluid trapped between a flexible elastomer liner and a solid thermoplastic body block at flows to 2 gpm (7.6 lpm),
pressures to 25 psig (1.72 bar) and temperatures to 185°F (85°C).

The self-priming design has no seals to leak or valves to clog and can run dry without damage.

The rigid body block is molded of solid polypropylene, UHMW polyethylene, or PTFE, and the flexible liner of natural rubber, neoprene, Hypalon, Viton or Nordel, eliminating corrosion and ionization associated with metal pumps.

Other mobile and stationary tank/pump systems equipped with larger Flex-I-Liner pumps handle higher flows.